Welcome to Narrow Gate Farms!
We are a family farm specializing in Cashemere and Fainting goats and pasture raised eggs. We also grow multiple types of high bush blueberries, unusual for this area of Wisconsin as well as some heirloom varieties of apples. We use organic growing techniques where possible, and use guinea hens and chickens for natural pest control. We have been in business since 2006, and we pride ourselves on providing customers with the best-quality products and personal service. Come back and visit the site often as we will update it with our farm's progress and new product offerings.
We were very excited last year when Bebe, one of our own cashmere does was featured in the Countdown to Winnings Wisconsin Lottery holiday video! She did a great job and made all of us here at Narrow Gate Farms very proud! You can find the youtube link to the commercial at
www.youtube.com/watch?v=atg5pE5rAYU
or search Countdown to Winnings on the Youtube site.
FOLLOW US ON FACEBOOK
Bebe in her commercial debut!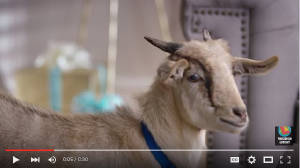 By joining our mailing list, you will be the first to know about:
Breaking news about our business
Helpful tips
Exclusive special offers
To join, type your name and email address on the "Contact Us" page and click the Submit button: